The results are in. After counting up the votes of Square Meal readers and of our 25 regional reviewers, here are the top 50 restaurants outside London for 2012.
1 Purnell's £££
55 Cornwall Street, Birmingham, B3 2DH; 0121 212 9799
The undisputed star of the Brummie dining scene – and beyond

Rick Stein means Padstow and Heston Blumenthal is forever linked with Bray, but it's rare to find a chef whose driving ambition is to make his birthplace an all-round foodie destination. However, Glynn Purnell, this year's winner of the BMW Square Meal Award for Best UK Restaurant, is that rare thing: a cook who has eschewed the bright lights of the capital to work wonders on his home turf.
Purnell hit the headlines at Jessica's in the leafy suburb of Edgbaston, where he won Birmingham's first-ever Michelin star in 2005, an accolade he retained when he opened his own self-titled gaff in the city centre a mere two years later. Last autumn, he beefed up his Brummie profile with the launch of a second venture, the more casual Asquith's & Ginger Bar.
Menus at the mother ship are split into a six-course seasonal tasting menu (£60) and an eight-course 'tour' (£80) of Purnell's signature dishes over the years, but it's also possible to construct a three-course menu for £50 – although some rather precious descriptions ('textures of artichoke', 'emotions of cheese and pineapple') may do little to inspire confidence.
Stick with it though, because Purnell's best dishes taste like distillations of pure flavour: the full spectrum of 'tomato' – from sweet-and-sharp comic-book green to fruity traffic-light red – is on show in a starter of goats' cheese with heirloom varieties; a pickled cucumber steals the show from perfectly tooth-tender slow-cooked lamb, while the shimmering clarity of strawberries and fresh cucumber explodes like a sunburst of flaming June in the mouth – even on an overcast West Midlands afternoon.
Elsewhere, the kitchen dishes up monkfish masala – a witty take on Birmingham's most famous culinary export that never sacrifices balanced flavour for the sake of a joke – and it shows technique aplenty: witness a perfectly spherical poached egg yolk atop veal tongue, the gooey, meaty richness cut by horseradish and watercress.
Well-spaced tables and smart, neutral decor are equally suited to Birmingham's business crowd as they are to couples out for a celebration. Polished staff are marshalled by smooth maître d' Jean-Benoît Burloux, who combines matinée-idol looks with unflappable charm and inestimable knowledge of the food and wine list. Burloux has been with Purnell since day one – as has kitchen porter Slawek Plaskocinski – testament to the loyalty the chef inspires. By honouring the restaurant with this award, we hope that it will attract a loyal crowd from well beyond Birmingham, too.
WINE LIST
A real crowd-pleaser, Purnell's list features top European names and a smattering of New World stars. Take your pick from the strong line-up of Bordeaux and Burgundy, or try a leftfield choice from Washington or Switzerland.
Best buy White 2007 Bodega Norton, Privada, Mendoza, Argentina, £36.95.
2 The Kitchin ££
78 Commercial Quay, Leith, Edinburgh, EH6 6LX; 0131 555 1755
Seasonal ingredients and culinary skill combine to great effect
Tom and Michaela Kitchin's collective CV is as glittering as they come, so it was no surprise that their Edinburgh restaurant picked up a Michelin star within a year of opening (back in 2007). Part of a converted warehouse, the aptly named Kitchin is an informal space with fairly basic furnishings and no tablecloths, the focal point being a large window into the kitchen – allowing diners to see the chefs in action. The cooking emphasises fresh, seasonal ingredients (a winter game 'board' could offer grouse, ptarmigan and teal), although there's real craft and complexity about the results. Razor clams come stuffed with diced vegetables, chorizo and lemon confit, or there could be halibut – crisp on the outside, translucent within – served on a ragoût of cocoa beans and shellfish, while desserts might include an exquisite pistachio soufflé teamed with equally exquisite pistachio ice cream.
3 L'Enclume £££
Cavendish Street, Cartmel, Cumbria, LA11 6PZ; 01539 536362
Flavourful food with a sense of fun served up in lakeland style
Nothing could be further from nostalgic lakeland sentimentality than Simon Rogan's groundbreaking restaurant-with-rooms in a former blacksmith's shop. There's a lively culinary intelligence at work here, and Rogan's artistry is seldom less than note-perfect. A visually stunning creation involving two varieties of carrot, presented with slivers of ham fat and a sprinkling of nasturtium flowers, is typical of Rogan's talent for drawing pure, undiluted flavours from his ingredients. This is subtle cooking with a sense of fun, matched by fine service. Variety is the watchword for the wine list, which offers a wide choice of grape varieties, styles, regions, countries, prices and formats.
4 Le Manoir aux Quat'Saisons ££££
Church Road, Great Milton, Oxfordshire, OX44 7PD; 01844 278881
Monsieur Blanc's luxurious manor
Raymond Blanc's fine-tuned take on country-house living at its best impresses from the moment one's tyres crunch over the gravel drive leading through beautiful grounds to the meticulously maintained manor house. The kitchen earns its keep with near-faultless cooking based on classic French techniques and the best ingredients, with plenty of luxury for your money. The whole velvety experience should lull you into a sense of such enormous well-being that you're not too troubled by the bill.
5 The Fat Duck ££££
1 High Street, Bray, Berkshire, SL6 2AQ; 01628 580333
Gastronomic wizardry at its very best from culinary magician Heston
Despite its three Michelin stars, The Fat Duck couldn't be more unassuming – its discreet entrance and simple furnishings give no hint of the astonishing cooking that takes place here. Heston Blumenthal's 15-dish tasting menu is well worth its £180 price tag for the roller-coaster ride of thrills it delivers. Every morsel is pure fun, from the first palate-cleansing mouthful of nitro-poached gin-and-tonic foam through tastebud-tricking 'hot and iced tea' to the last hurrah: a goodie bag entitled 'like a kid in a sweet shop'. There are extraordinary flavour combinations at every turn in between, such as grain-mustard ice cream with red-cabbage gazpacho, and an intense Black Forest gâteau; all inventively presented – and utterly delicious.
6 Restaurant Sat Bains £££
Lenton Lane, Nottingham, NG7 2SA; 0115 986 6566
A taste of culinary magic in Nottingham
Undoubtedly Nottingham's top dining destination and the worthy holder of two Michelin stars. Food takes the form of seven- or 10-course tasting menus, and our visit began with two shot glasses to cleanse the palate, followed by a trio of amuse-bouches. Further highlights included beetroot sorbet served with balsamic; dry-aged sirloin of Dexter beef with wild mushrooms, polenta and parmesan salad; and, to finish, chocolate with Maldon sea salt and candied violets, served with Manni olive-oil jelly.
7 The Waterside Inn £££
Ferry Road, Bray, Berkshire, SL6 2AT; 01628 620691
Decadent dining and a warm welcome by the Thames
This sumptuously furnished yet homely restaurant offers one of the most cosseting dining experiences – courtesy of Alain Roux, pictured right – you could hope to find. Pan-fried lobster medallion with a white port sauce and ginger-flavoured vegetable julienne is a decadent concoction, while spit-roasted Challandais duck is an equally well-judged creation, served with a mead-flavoured jus. For dessert, the warm rhubarb soufflé with raspberries doesn't disappoint. An experience to remember.
8 Restaurant Nathan Outlaw £££
St Enodoc Hotel, Rock, Cornwall, PL27 6LA; 01208 862737
Superior fish dishes to the fore from one of England's brightest young stars
Nathan Outlaw has earned a reputation for some of the most engaging food in the south west, and shows no sign of slowing down. The venue is understated and the menus easy to access. Take your pick from the fixed-price lunch and dinner offerings or the more expensive tasting option; either way, the choice revolves around Cornish fish, with just a token meat dish among the starters and mains. The whole show is underpinned by well-drilled staff for whom nothing is too much trouble.
9 The Hand and Flowers £
126 West Street, Marlow, Buckinghamshire, SL7 2BP; 01628 482277
Pub food takes on whole new meaning at this Buckinghamshire hostelry
It may still look and feel like a pub, but The Hand & Flowers is now a cleverly reworked, classy, two Michelin-starred restaurant-with-rooms run by a larger-than-life chef with a great pedigree. Following the installation of a new kitchen, Tom Kerridge's cooking seems to have gone up a notch – although his menu is largely unchanged: genuine flavours, respect for British ingredients and a refreshing lack of pretension are his trademarks. Rich pork and mushroom terrine comes with dill pickles and toasted sourdough, while slow-cooked duck breast is superbly enhanced by peas, duck-fat chips and gravy. Desserts are equally dazzling: witness a warm pistachio sponge cake with melon sorbet and marzipan, or chocolate cake with salted caramel and muscovado ice cream. At lunchtime, you can order a pint of real ale and choose something simple from the bar menu – fish and chips are worth a punt. Four fabulous bedrooms are housed in a cottage just yards from the pub.
10 Gidleigh Park ££££
Gidleigh Park, Chagford, Devon, TQ13 8HH; 01647 432367
Enjoy celebrated food in the picture-perfect Devon countryside
While the stunning setting – a secluded woodland oasis with a stream meandering through its front garden – is a crowd-magnet, it's the cooking of executive chef Michael Caines and his team that draws visitors from far and wide. The kitchen offers both classic dishes and more modern creations that illustrate why Caines has won Gidleigh Park two Michelin stars. To start, try langoustine cannelloni with braised fennel, sauce vierge and shellfish sauce. Top main courses include a delightfully earthy dish of saddle of venison served alongside braised pork belly, chestnut purée, roast vegetables & raisins soaked in jasmine tea. After that, finish with something relatively light – perhaps hot prune and Armagnac soufflé with prune and Armagnac ice cream. Happily the kitchen's dazzling expertise is matched by an equally professional front-of-house team and a blockbuster wine list is there to provide the perfect liquid asset.
11 The Walnut Tree Inn ££
Llanddewi Skirrid, Abergavenny, Monmouthshire, NP7 8AW; 01873 852797
Quality ingredients and a friendly atmosphere seduce diners
With Shaun Hill in the kitchen, The Walnut Tree has gained a loyal following of diners who appreciate honest cooking served in an informal environment. Lunchtime brings comforting dishes such as brawn with celeriac rémoulade and grilled skirt of beef with dauphinoise potatoes and salsa verde, while summer choices from the daily carte might feature monkfish with tomato, chilli and ginger, followed by rabbit pie with loin, kidney and liver. Desserts include classics such as summer pudding with clotted cream.
12 Le Champignon Sauvage ££
24-26 Suffolk Road, Cheltenham, Gloucestershire, GL50 2AQ; 01242 573449
Culinary innovation hits the mark
Le Champignon Sauvage has won a strong foodie following – not to mention two Michelin stars – thanks to the bold, innovative cooking of chef/proprietor David Everitt-Matthias. His thrilling cuisine includes seared scallops served with a carpaccio of pig's head and a pickled pear purée; pavé of Gloucestershire Old Spot, with braised pig's cheek, pig's head, smoked maple and raisin purée; and to finish, a bitter chocolate and olive tart with fennel ice cream.
13 Whatley Manor £££
Easton Grey, Malmesbury, Wiltshire, SN16 0RB; 01666 822888
Flavour, originality and some winning combinations
The Dining Room restaurant at this luxurious weekend retreat offers an all-round gastronomic experience courtesy of chef Martin Burge. Hand-dived roasted scallop served with flakes of warm salt cod, caramelised salsify and truffle essence is a light way to begin, before an earthy but sophisticated combo of venison loin, served with its own sausage, cabbage purée, grated chocolate and reduced Shiraz. Desserts might feature an assembly of flawless black-truffle ice cream with creamed Roquefort, deep-fried goats' cheese and candied walnut. No wonder it's popular.
14 Midsummer House £££
Midsummer Common, Cambridge, CB4 1HA; 01223 369299
Perfect fare from Cambridge classics master
Daniel Clifford's bold interpretation of classic French cooking earned Cambridge its first Michelin star back in 2002 and its second in 2005 – his sure touch and keen eye for quality ingredients have kept things spanking-fresh ever since. Much is made of unexpected contrasts, as in a stunning starter of seared scallops with a succession of textures and flavours such as celeriac, truffle, Granny Smith apple and caramel, while slow-roast loin of venison teamed with braised choucroute, carrot purée and venison pudding is an impeccably executed take on classic flavours.
15 Crown at Whitebrook ££
Whitebrook, Monmouthshire, NP25 4TX; 01600 860254
Destination dining in the Wye Valley
Chef James Sommerin has made the Crown at Whitebrook one of Wales' top dining destinations. He won his first Michelin star in 2007 and his imaginative, endlessly interesting cooking continues to scale the heights. A knowledgeable sommelier is on hand to guide you through the lengthy and well-chosen wine list, while service in the immaculate, pale-toned dining room is impeccable.
16 Adam Simmonds at Danesfield House £££
Henley Road, Marlow, Buckinghamshire, SL7 2EY; 01628 891010
Hotel dining at its best
Adam Simmonds' elegant, self-named restaurant is one of the South East's finest destinations, with the Anoushka Hempel-designed interior providing a mellow backdrop for the chef's exceptional menus. A beautifully presented opener of roasted scallops with sand-carrot purée, pickled carrot and a cumin-spiked carrot cake sets the standard. Raising the bar further, succulent loin of venison with parsnip purée, sprout leaves and caraway croquettes is a faultless combination. The cheese trolley is a sight to behold and the novel idea of serving cheese with apple and celery sorbets works well. Charming service and a cracking wine list enhance the experience, with Simmonds deservedly gaining a Michelin star in 2011.
17 Northcote ££
Northcote Road, Langho, Blackburn, BB6 8BE; 01254 240555
Lancashire's finest on a plate
Chef Nigel Haworth continues to give Lancastrian produce a good name with his updates on classic regional recipes. Thus, a deeply modish-sounding dish of black pudding and buttered pink trout with mustard and watercress sauce turns out to be a bona fide 18th-century recipe, while roast sirloin of aged Dexter beef with Yorkshire pudding and all the trimmings is just one of the main course options on a terrific four-course Sunday lunch menu.
18 Restaurant Andrew Fairlie ££££
Gleneagles, Auchterarder, Perthshire, PH3 1NF; 01764 694267
Meaty fare with exceptional flavour
Andrew Fairlie's restaurant offers a seamless combination of gastronomic experience, careful service and decor that's just formal enough to create a sense of occasion. Trained in the French tradition, Fairlie is unafraid of serving masculine, meaty food, sourced from suppliers who have not bred the fat out of their beasts and birds, such is their unmistakeable flavour and tenderness. Ask your sommelier for a recommendation from the wine list is as long as a school register.
19 Castle Terrace ££
33-35 Castle Terrace, Edinburgh, EH1 2EL; 0131 229 1222
From nature to plate at second outfit from The Kitchin team
Castle Terrace opened in summer 2010, a second venture from the team behind Edinburgh restaurant The Kitchin. Cheffing duties are in the experienced hands of local boy Dominic Jack, although The Kitchin's 'from nature to plate' ethos still applies. Raw materials of distinguished provenance go into starters such as brown crab with mango, avocado and roasted red pepper, and mains such as seared hampe (flank) of Scotch beef, crispy ox-tongue pastilla, carrot, onion and Bordelaise sauce. The interior of the contemporary dining room takes a subtle approach, which defines the mood.
20 The Peat Inn ££
Nr St Andrews, Fife, KY15 5LH; 01334 840206
A dish for all seasons
Geoffrey Smeddle's ever-changing menu is commited to seasonal produce. Depending on the time of year, expect field-reared veal with pot-roast root vegetables, quince, chestnuts and juniper sauce, or langoustines paired with crisp pork belly and butternut squash pannacotta. An impressive wine list starts at £24.
21 The Royal Oak £
Paley Street, Maidenhead, Berkshire, SL6 3JN; 01628 620541
Parky and son get people chatting about their village pub
Sir Michael Parkinson and his son Nick's village pub has been put on the culinary map by chef Dominic Chapman, whose sturdy cooking chimes well with the quality ingredients that make up the seasonal menu. Starters include a beautifully executed chicken-liver and foie-gras parfait with fig chutney and toasted brioche, while a main of roast halibut with samphire, cockles and mussels won't disappoint. Desserts such as Yorkshire rhubarb soufflé or steamed butterscotch pudding with custard are well rendered.
22 The Artichoke ££
9 Market Square, Old Amersham, Buckinghamshire, HP7 0DF; 01494 726611
New ideas and a bigger space
Innovation and acute seasonality rule at Laurie Gear's modern European restaurant, which has stepped up a notch after taking over the building next door. Wife Jacqueline heads a sharp, terrifically enthusiastic team, and the lunchtime tasting menu (five courses for £35) is one of the bargains of the year in these parts.
23 The Driftwood Hotel ££
Rosevine, Portscatho, Cornwall, TR2 5EW; 01872 580644
Stunning food to match stunning ocean views
Chris Eden's cooking draws its share of adoring foodies to this secluded boutique hotel. The Cornish chef embraces 'terroir' and tackles local pickings with the aplomb you'd expect from a graduate of The Square and The Wolseley. The bright dining room provides an unpretentious backdrop for, say, a trio of venison (kofta, fillet and shepherd's pie) or a slab of buttery caramelised pineapple in filo pastry, with lime and coconut ice cream.
24 Fraiche ££
11 Rose Mount, Oxton, Merseyside, CH43 5SG; 0151 652 2914
Modern cuisine with futuristic flair
It's not immediately clear what lies behind the frosted shop front of Fraiche in Oxton, a pretty village-like enclave in not-so-pretty Birkenhead. However, a sign in the window proclaiming 'Future French' gives a clue that this is a small but perfectly formed restaurant serving modern cuisine. Dishes such as bonbons of sweetbreads with smoked olive and apple textures, Herdwick lamb loin with fondant potato and chervil cream or sea-bass fillet with aubergine yoghurt and verjus are subtly rendered, but seldom showy. The wine list has plenty of sub-£30 drinking as well as a selection of Champagnes and sherries by the glass. Fraiche may be low-key, but it's quietly concentrating on getting all the details just right.
25 Michael Wignall at the Latymer ££££
Pennyhill Park Hotel, Bagshot, Surrey, GU19 5EU; 01276 471774
Perfect balance at this star-turn hotel restaurant set in Surrey parkland
Located in Pennyhill Park's stunning surrounds, the Michelin-starred Latymer restaurant amply showcases head chef Michael Wignall's dazzling talent. Recent highlights from the top-end menu include ballottine of pigeon with morels, boudin blanc, beetroot, crisp chicken skin and butternut squash, and an equally complex dish of plaice with scallop, oyster beignets, creamed polenta, palm hearts and edamame beans; desserts also wow with the likes of tiramisu parfait and its accoutrements. The fine wine list provides a perfect liquid match, and the professional front-of-house team does an admirable job.
26 Tyddyn Llan ££
Llandrillo, nr Corwen, Denbighshire, LL21 0ST; 01490 440264
Dream team serves quality food in a beautiful spot
Bryan & Susan Webb make an ace double act at their Michelin-starred restaurant-with-rooms in the Dee Valley. Their confident yet sensible approach ensures a good mix of locals and visitors in the softly lit dining rooms, and a kitchen that keeps local sourcing and seasonality high on the agenda. Menu highlights range from loin of local spring lamb with peas, broad beans and mint to luscious puds such as whimberry crème brûlée.
27 The Sportsman ££
Faversham Road, Seasalter, Kent, CT5 4BP; 01227 273370
Prime seasonal food in relaxed setting
Hidden on the edges of the Kent marshes, The Sportsman's shabby exterior belies its airy, light-filled dining room, with its scrubbed tables and jars of wildflowers. The scene is set for gastronomic pleasures: kick off with mussel and bacon chowder or slip sole grilled in seaweed butter, before sampling fork-tender pork belly with apple sauce, crispy duck with smoked-chilli salsa and sour cream, or spankingly fresh fish from the day's catch. Cheerful, informal service adds to the relaxed vibe.
28 The Harrow at Little Bedwyn ££
Little Bedwyn, near Marlborough, Wiltshire, SN8 3JP; 01672 870871
An unstuffy yet unforgettable dining experience with plenty of fine wines
Despite its bucolic name, The Harrow isn't some timeless local pub, but a full-blown country restaurant. Chef-patron Roger Jones's serious ambition and accomplished modern cooking – think lobster sashimi made with day-boat catches from Brixham – have been roundly rewarded by industry greats. The full wine list is an oenophile's delight, with bottles from serious growers around the globe at very fair prices.
29 The Hambrough ££
Hambrough Road, Ventnor, Isle of Wight, PO38 1SQ; 01983 856333
Michelin-starred food using local ingredients in a swish boutique hotel
Talented chef Robert Thompson won his first Michelin star aged 23 (at Winteringham Fields), and has repeated the process at the smart, minimalist restaurant of this wonderful boutique hotel overlooking the sea and gardens above Ventnor Bay harbour. The kitchen keeps things local, offering Isle of Wight garlic and tomatoes paired with crispy bacon and aged balsamic, or fresh Bembridge crab, while Michelin whizzes and bangs make an impact in the form of elaborate dishes such as smoked-trout terrine with foie gras and Granny Smith apple or a nage of lemon sole with lobster and rocket pasta. Service is assured, confident and slick, and the wine list sets out to impress.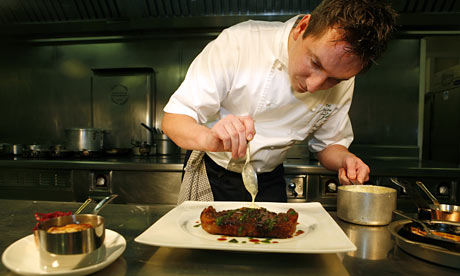 30 The Pipe & Glass Inn £
West End, South Dalton, Yorkshire, HU17 7PN; 01430 810246
Good pub with enticing regional dishes
This Michelin-starred restaurant has given East Yorkshire's rather limited food scene a real shot in the arm. The 15th-century pub is a tasteful mix of open fires, heritage colours and brown leather, and the food – courtesy of head chef and owner James Mackenzie (pictured above) – has strong regional overtones: from 'a taste of Yorkshire game (honey-smoked wild duck with potted grouse, hare-and-juniper pasty and a shot of game tea) to mutton-and-kidney faggot with butternut squash purée and wild mushrooms.
31 The Hardwick £
Old Raglan Road, Abergavenny, Monmouthshire, NP7 9AA; 01873 854220
Clever rustic cuisine at Stephen Terry's much-lauded eatery
32 Bohemia ££
Green Street, St Helier, Jersey, JE2 4UH; 01534 872809
Picture-perfect dishes at this destination restaurant
33 The Montagu Arms ££ ££
Palace Lane, Beaulieu, Hampshire, SO42 7ZL; 01590 612324
Smart local inn with big-hitting ensembles worth every penny
34 Restaurant Martin Wishart ££
54 The Shore, Leith, Edinburgh, EH6 6RA; 0131 553 3557
Superior, seasonal food right on the Leith waterfront
35 Auberge du Lac £££
Brocket Hall, Welwyn, Hertfordshire, AL8 7XG; 01707 368888
Casual but full-throttle menu at this beautiful lakeside venue
36 Turners of Harborne £
69 High Street, Harborne, Birmingham, B17 9NS; 0121 426 4440
Elegant refinement without pretentiousness in Birmingham
37 Ode £
21 Fore Street, Shaldon, Devon, TQ14 0DE; 01626 873977
Eco-friendly outfit whose green credentials match its offering
38 Fifteen Cornwall £££
On the beach, Watergate Bay, nr Newquay, Cornwall, TR8 4AA; 01637 861000
Simple yet flavoursome dishes and panoramic views
39 The Stagg Inn £
Titley, Nr Kington, Herefordshire, HR5 3RL; 01544 230221
Local ingredients cooked with flair by husband-and-wife team
40 L'Ortolan ££
Church Lane, Shinfield, Reading, Berkshire, RG2 9BY; 0118 988 8500
Splendid, sophisticated dishes in charming former vicarage
41 Tuddenham Mill ££
High Street, Tuddenham, Suffolk, IP28 6SQ; 01638 713552
Rustic-chic setting backed up with a superb modern menu
42 Mr Underhill's ££
Dinham Weir, Ludlow, Shropshire, SY8 1EH; 01584 874431
Romantic location and inventive dishes (tasting-menu only)
43 The Black Rat £
88 Chesil Street, Winchester, SO23 0HX; 01962 844465
Remodelled former boozer with imaginative, appealing menu
44 The Seahorse Restaurant ££
5 South Embankment, Dartmouth, Devon, TQ6 9BH; 01803 835147
Mitch Tonks' family-run seafood restaurant has a timeless feel
45 Bybrook Restaurant ££
Manor House Hotel & Golf Club, Castle Combe, Chippenham, Wiltshire, SN14 7HR; 01249 782206
Country-manor dining room with a talented kitchen
46 Duke of Cumberland £
Henley, West Sussex, GU27 3HQ; 01428 652280
Hidden gem with showstopping dining room and terrace
47 JoJo's £
2 Herne Bay Road, Whitstable, Kent, CT5 2LQ; 01227 274591
Tapas-style BYO operation with views of the North Sea
48 The Nut Tree ££
Main Street, Murcott, Oxfordshire, OX5 2RE; 01865 331253
16th-century pub with real ales and a sharply executed menu
49 Wellington Arms ££
Baughurst Road, Baughurst, Hampshire, RG26 5LP; 0118 982 0110
Bijou pub/restaurant-with-rooms using home-grown produce
50 Milestone, Sheffield £
84 Green Lane, Sheffield, Yorkshire S3 8SE; 0114 272 8327
Top marks for effort at this stylish, thoughtful gastropub